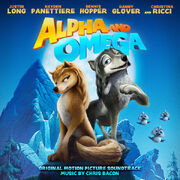 Alpha and Omega Original Motion Picture Soundtrack is the official soundtrack of Alpha and Omega and music by Chris Bacon.
Track Listing
The following tracks on the soundtrack are:
Pre Teen Wolves
Main Titles
Candu Was Jumped
Humphrey's Crew
Garth
Wolfnapped
Idaho or Bust
The Golfing Goose
Flying Fowl
Searching for Kate
Eat Food, Get Gas
Tails It Is
Garth and Lilly
Bears!
Love Train
Time's Up
I've Had Fun
Unite the Packs
Alphas and Omegas
Take the Valley
Requiem for Kate
Big Finish
Community content is available under
CC-BY-SA
unless otherwise noted.