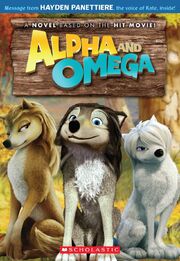 The novel is slightly different from the movie, and can be officially purchased at Walmart.
Alpha and Omega: Humphrey and Kate's Big Adventure
The author of this scholastic book is Rebecca McCarthy. Based on the Fall 2010 3-D animated movie!
Kate is an alpha wolf and Humphrey is an omega wolf--they are total opposites! But when they get transplanted far from home, they have to work together to get back. And along the way they discover that opposites do attract! This book can be officially purchased only online.
Alpha and Omega - Marcel and Paddy Save the Day
Re-live all of the fur-raising fun of the hilarious Fall 2010 movie Alpha & Omega!
Laugh along with Marcel and Paddy as they help Alpha wolf Kate and Omega wolf Humphrey make the long journey back to their pack. This book can be officially purchased online only.
Trivia
The junior novel is slightly different than the movie.
Humphrey and Kate's big adventure was originally going to have a voice message with Lilly's voice, but the author decided to write the message instead.
In the novel, the quote for the scene about Humphrey eating berries is different, instead, it says "I'd rather stick to meat".