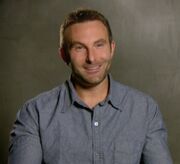 Ben Gluck is an American director, screenwriter, and author. Ben directed the first Alpha and Omega film which created the Alpha and Omega franchise.
Alpha and Omega,[1] _ budgeted at 13-million grossed 50-million worldwide and is the highest-grossing animated franchise for Lionsgate Family Entertainment, resulting in eight follow-up films.
Ben began his career at Dreamworks Animation where he was the studios very first story trainee. Shortly after, he was recruited by Walt Disney Animation Studios, where he worked for over a decade as a storyboard artist, head of story, and director on animated feature and television productions.  
Ben was the head of story on the science-fiction fantasy 9, executive produced by Tim Burton, and Ben was the Consulting Director and screenwriter who developed Tyler Perry's wildly popular live-action Madea character, into an animated film .