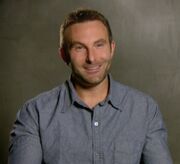 Ben Gluck is an American director, screenwriter, head of story and author. Ben directed the first Alpha and Omega film - which created the Alpha and Omega franchise.
Alpha and Omega,[1] _ budgeted at 13-million grossed 50-million worldwide and is the highest-grossing animated franchise for Lionsgate Family Entertainment, resulting in eight follow-up films.
Ben began his career at Dreamworks Animation where he was the studios very first story trainee, focusing on the film The Prince of Egypt. Shortly after, he was recruited by Walt Disney Animation Studios, where he worked for over a decade as a storyboard artist on animated feature films. Ben was the first story head for Walt DisneyToon Studios and Director of Brother Bear 2 - this film is Disney's second direct-to-video sequel to have a higher rating on Rotten Tomatoes than its predecessor. 
Ben developed, with executive producer Charles Roven, the feature film adaptation of the popular anime series Battle of the Planets, and Ben was recruited by George Lucas to develop an original animated theatrical film. Ben was Head of Story on the science-fiction fantasy 9, executive produced by Tim Burton, and Ben was the Consulting Director and screenwriter who developed and reconcieved Tyler Perry's wildly popular live-action Madea character, into a global animated franchise.
Ben is senior executive and Head of Story for Alpha Animation - the largest animation group and the leading pan-entertainment platform in China - responsible for developing a slate of high-end CG Animated Feature Films for U.S and international audiences.