Jasper Park is a national park in Alberta, Canada, and is where many of the events in the movie transpire. It is the home to the Western and Eastern wolf packs, along with the other wildlifein the park. This valley is the home to the western Wolf Pack, which consists the main characters, Kate, Humphrey, Winston, Eve, Hutch, Lilly, and Can-do. It is made up of a very diverse elevation of mountain tops, valleys, waterfalls, and streams. The land is made up of large pine trees, mixed with oaks, and many other trees. It also has many different wild flowers including dandelions, and a variety of not specified pink, white, and yellow flowers seen above.
The Western Pack Wolves Den. This is a mountain top in late fall. The Western pack wolves den is made up of many. During the beginning of the movie, Humphrey and his trees, rocks, and beautiful mountain views.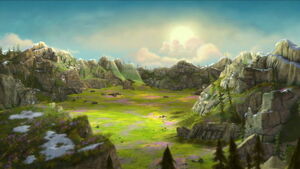 The den Friends were playing close to this mountain. And this is where Kate, Lilly, Winston, and Eve currently live. was when the first 3D effects were used. Though this possibility Humphrey now lives there. We are not mountain is snow covered, it is actually "Fall" farther sure where all the other wolves sleep, down the mountain where Humphrey was playing. Western and Eastern Packs territory line angle 1. Western and Eastern Packs territory line angle 2. This is the main line between the territories where the 2 packs meet. 
These 2 current images are when the 2 packs meet after Kate and Humphrey disappeared. As you can see, this is a perfect place to meet up and fight.
Gallery